Free Tips, Ideas, Secrets and Strategies to "Boost your Career"
In my FREE bi-weekly newsletter, I share the simple, practical and proven strategies that help my clients achieve career success.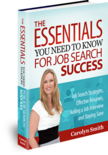 PLUS, if you join now, you can download The Essentials you need to know for Job Search Success!  I normally sell this online for $9.95, but as a FREE bonus and a welcome gift, download your copy today.
Just enter your information in the boxes below and you'll receive all the details within 5 minutes ** via EMAIL

Privacy Policy: I will NEVER share, rent, or sell your information to any other organisation, or individual.  Like you, I hate spam and you won't receive rubbish or junk emails. Remember there is no obligation whatsoever and you can cancel your subscription to "Boost your Career" at any time.
Plus here are six other reasons to subscribe to the Boost your Career newsletter:
You never have to check my site for updates, again, as each fortnight you get the latest articles and resources first.
It's totally free
Exclusive content, with new reports often limited to suscribers only. If you want to be the first to know about new opportunities, then subscribing is the way to go.
I hate spammers and abide by high ethical values, so I promise to never sell, rent, trade or share your email with any other organisations or people, EVER!
With over 3,457 subscribers already from 'Boost your Career', you will be joining a list of subscribers, who get more results in less time and who have taken control of their career and life!
If you decide after subscribing that you would prefer to get the content from just visiting the site, then you can unsubscribe at any time, with one simple click.
Thanks for visiting