One-on-One with Carolyn Smith – Government Jobs
Having worked with thousands of clients around Australia, I understand how frustrating the whole process can be, so start with my free e-book  The Essentials you need to know for Job Search Success!' (valued at $9.95), which includes a free chapter on government applications.
Let's face it – applying for a government job can at times be quite a daunting task, not to mention time consuming and frustrating. Many applicants try to face this process alone, and have several days of writing and re-writing, only to end up with a generalised application and ultimately no interview.
If you are new to government, application requirements will differ depending on the agency and whether Federal, State, Territory or Local Government. These requirements might include:
Responses to selection criteria
A 2 page cover letter, responding to key requirements
A 1 page statement of claim
EOI (Expression of Interest)
Responses to behavioural questions
A statement of claim with a word limit (e.g. 700 words).
If you are looking to move from the private to the public sector, then it is vital that your application meets the department/organisation's strict assessment requirements. In the public sector, selection for an interview is based on the number of points you score against your application. So no matter how suitably qualified you are, if your application does not encapsulate your experience in a succinct way, or answer their specific requirements,  with a focus on your achievements and suitability against each any criterion, then you will not be invited for an interview.
As a professional, with over 14+ years experience, I have an in depth working knowledge of the policies and techniques behind the selection process. I also have the expertise to translate your experience into answers that will clearly demonstrate why you should be selected for an interview.
If you are currently within the public sector, then you already understand the process and how incredibly time consuming it is to produce a quality application that will get you to the top of the interview list. Over 67% of my clients come from within the Public Service Sector, including Local, State and Federal. I can make the whole process easy – imagine, no more wasted evenings and weekends! My expertise also means that I can dramatically improve upon the quality of your application in order to position you as the best candidate for the role.
As a Master Writer, I have assisted clients from entry level to the senior executive level and I have a phenomenally high success rate for my clients, including a 100% success rate in many sectors and departments across Australia, ( not to mention the numerous referrals I receive and my high client return rate).
But don't take my word for it, read what my clients have to say about our professional service.
For an obligation free quote and assessment, please forward to us the following:
A copy of the application pack and selection criteria to be addressed, or a link to the relevant website, detailing job title, and vacancy, or job reference number (including closing date)
A copy of your resume or curriculum vitae (if available) for assessment purposes
Please note – my many clients enjoy a high level of success, because I only take on projects in which I'm confident that I can effectively address the criteria for the client, because they have the relevant experience and knowledge for the position in question. If you are uncertain whether you meet all the selection criteria, I'm more than happy to provide you with an honest and candid assessment as to your eligibility.
E-Manual on Selection Criteria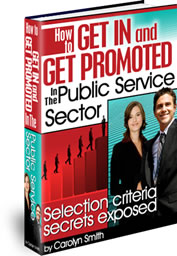 Want to GET IN or GET PROMOTED in the public service sector?
This e-manual gives you all the information, tools and resources you need.
Carolyn Smith, has created the most complete e-manual on how to write an application that will secure interviews in the public service sector. It's packed full of hands on information that reveals all her trade secrets, and provides you with all the tools for planning, writing and submitting an application that is guaranteed to help you secure interviews. Browse its table of contents now.