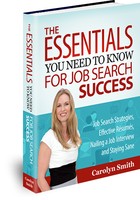 Job – hunting sucks!
It is time consuming, stressful, you face rejection almost every single day and times are changing, where the traditional job search approaches no longer work effectively.
The thing is, it is important to embrace 2 key facts about the job search process:
First, It is rarely the best qualified who will win the position.
And secondly – rejection is a fact of life when you are job-hunting on job boards.
No wonder, so many of us stay put in less than satisfactory jobs – we don't want to deal with another rejection letter.  Does this sound like you?
So I compiled a short resource covering of ALL the essentials you need to know for Job Search Success, so you use the right job search strategies, develop effective resumes and selection criteria, nail a job interview and most importantly, stay SANE during the job search.
Learn why it is essential to have a very defined and targeted job in mind.
Why you should not rely on job boards, or waste your time with recruiters if changing careers.
 Why your LinkedIn profile is not working for you and how to fix this.
The essentials you need to know if applying for a government job.
The fundamentals for a 'knock out resume' that ensures that you win more job interviews.
A list of job interview questions, so you have the right answers prepared.
How to get the critical mind set, so you can handle rejection and secure your dream job.
You can purchase today for just $9.95, or secure this invaluable resource for FREE, when you sign up to Your Boost your Career today.
Pay in full now for only $9.95 (GST inclusive)