Reconnect with your network
Christmas is a great excuse to reconnect with your entire network. It can be as simple as an email thanking them for their support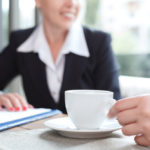 during the year, sending them a useful report or article, or inviting them for a quick 15 minute coffee catch up to say hello, before the Christmas break. The bulk of jobs are secured through networking, so use this as an opportunity to get reacquainted.
And remember, networking is about giving, not taking.
Don't stop looking
With Christmas just around the corner there is a tendency for many job seekers to stop looking at job boards, on the assumption that employers don't hire this time of year.
While there are fewer jobs advertised, jobs will continue to be advertised across December and January. So don't stop looking. Set yourself up a Google Alert, or register with job board aggregators, such as Indeed, so all relevant jobs continue to flow into your inbox, so you can take immediate action.
The benefit of continuing to look over the holidays, is while there are less jobs out there, there is also way less competition. So if a job does arise, you are in a very good position to snatch the new job.
Update your LinkedIn profile
If you are worried about a snoopy boss, then the holiday period is a great time to update your LinkedIn profile.  Most bosses are probably not going to be on LinkedIn between Christmas and New Year, so pop on and reinvent yourself on LinkedIn. Just remember, if you are connected to your boss, turn off notifications, so they don't receive your LinkedIn updates.
Build your LinkedIn connections
Continue to build your LinkedIn Connections right through to the 22nd December. Reach out to relevant recruiters within your sector and take advantage of those within the industry to build a relevant connection network. Remember, the magic on LinkedIn is your 2nd, or 3rd degree connections. Feel free to connect with me and take advantage of my LinkedIn network .
Undertake research
Tapping into the hidden job market and using informational interviews are some of the strongest strategies that you can use to accelerate your career fast.  The downside is it takes quite a bit of research to uncover relevant contacts and organisations.  So leading into the Christmas period is a perfect time of year to compile a list of contacts, so you are prepared to launch a successful program in 2018 involving growing you network and ensuring that your resume lands in front of the right decision-maker (which is not always HR).
Become a member of My Career Groove
If you're a professional involved in marketing, sales, business development, communications, accounting, technology and law, you would be mad not to join My Career Groove. With over $500 worth of job search career resources for members, along with the opportunity to be recruited by employers, joining will jump start your career in 2018. So create a free profile today.  
Take a break
Finally, make sure you take time off and relax. Holidays are good for your health and time away will boost your productivity for your career next year.