HIRING IS STILL HAPPENING
With news stories screaming out major job losses, it is easy to think that there are no jobs. On the contrary, yes there are jobs and some employers are scrambling for top talent. This last week, I was still working for clients that are sending me advertised jobs and people are still securing interviews, in spite of the chaos.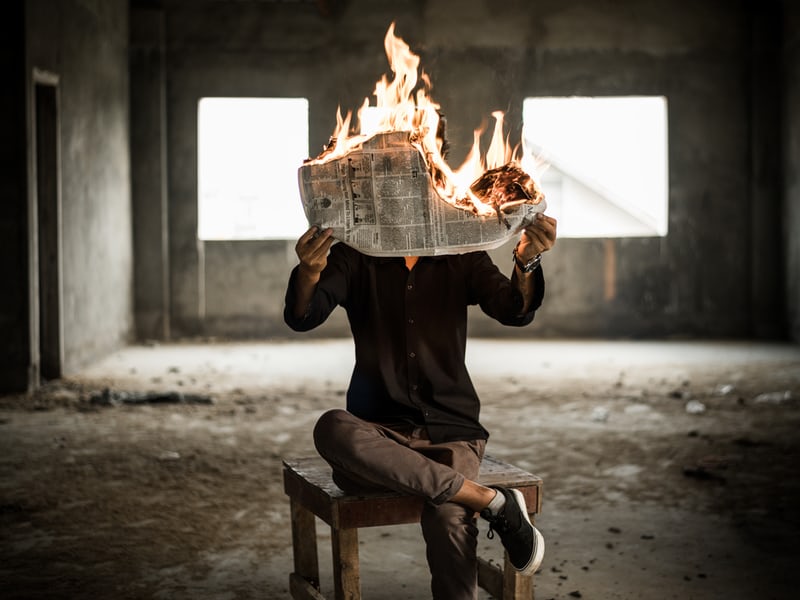 Some of the sectors that are still recruiting in both the public and private sectors:
Warehousing and Transport
Infrastructure
Education
Information and Communications Technology
Health Care Sector
Finance
Pharmaceuticals
Recruitment has slowed significantly, but it has not come to a grinding halt. It could be comparable to the Christmas season. Most employers won't be hiring, but hiring is happening and there are some incredible jobs STILL out there, that don't involve stacking shelves at Woolworths. DON'T stop looking and planning for your future.
HINT: Government is hiring, but many of the hiring processes are happening through recruitment firms, so don't just rely on the government job boards.
TURN OFF THE NEWS
As Willie Nelson and his sons recently sang, 'Turn off the News and Build a Garden'.
We are currently frozen in spotlight of bad news and as a result feel hopeless and unable to take action. The quickest and easiest action you can take today, is to turn off the news. Don't worry, you will hear through your network the latest developments, you won't be able to escape from it completely. But by reducing exposure to multiple negatives, you are less likely to stay static and start taking control of the situation.
You should also avoid 'pity parties', or the current equivalent of social networking and phone contact with peers and family, that are still trying to come to terms with what is happening. Pity parties just don't help, so if you can – TUNE OUT., or change the conversation.
GET PREPARED
Yes, the government has talked about putting the economy in hibernation, but the last thing you want to do, is stay in hibernation.
Most job seekers are going to do nothing, which is going to work to your advantage, if you take ACTION now.
You see once we come out the other end, there will be a huge rush of job seekers, battling it out for fewer jobs (that is going to be the harsh reality and the government hibernation plan is no guarantee that jobs are still going to be there).
You can remain glued to the TV screen, reminisce about the good old times and watch NETFLIX, or you can get prepared. A few examples of how you could use your time:
Build your LinkedIn connections and learn how to write a profile that works. LinkedIn is the #1 tool used by recruiters, but it can literally take months to get to the stage, where LinkedIn is running like a well-oiled machine. Make the most of this opportunity, so when the pandemic ends (which it will), you are in PRIME position to take advantage of opportunities on LinkedIn.
Make sure your resume is up to date and is the best possible presentation of you possible. Things are precarious and you don't want to be caught short footed, with an old-fashioned and in-effective document. Use the scout's motto – 'be prepared'.
Increase your network and visibility as a professional. Join relevant online forums of professional organisations, reach out to your network and say hello, asking them if you can help them during this crisis, expand your online connections. Don't become invisible and only turn up when you don't have a job. Become the first person that comes to mind, when people are seeking out expertise (hiring).
PIVOT & UNDERSTAND THERE ARE PATTERNS TO CHAOS (IN PARTICULAR IF YOU ARE AN EXECUTIVE)
You have a choice. You can choose to do nothing or move strategically.
In spite of COVID-19 currently feeling like total chaos, if you look at the broader pattern and changes in the market, some of these patterns can be identified.
Why do you need to understand the market patterns?
By understanding the market patterns, you will get a general feel of where the market is going to be in a few months, which means you will be able to identify potential areas that will grow, hence jobs and improved chances in your job search (and potentially enhanced job search security and career prospects).
For example, we know that government will be trying to rebuild the economy rapidly post COVID-19. Their hibernation plan will help, but more support will probably be needed. This could potentially mean fast tracking infrastructure projects, changes to how they support customers, or perhaps a renewed focus on building regional areas. Depending on how the government reacts post COVID-19, will determine what jobs will be available in government.
Identifying changes to the market, is particularly relevant if you are a senior manager, or executive. Scan the pages of the Australian Financial Review, which gives you a good idea of the shifts in the marketplace and where all of this is potentially heading. By understanding the patterns, you will be able to gear up for the changes and secure your future, including growing relevant networks within these sectors.
There is nothing permanent except change – Heraclitus