A Certified Master Resume Writer is the oldest master-level resume credential worldwide and the only one endorsed by an active professional association, Career Directors International (CDI).
Currently there are only 42 credentialed Master Resume Writers worldwide. I'm one of them.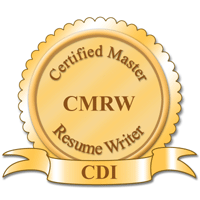 Certified Master Resume Writers are considered by many to be the 'best of the best' in the resume-writing industry. To be part of a select group of elite resume writers, not only do you need a pre-existing resume certification, (such as CARW), but you need to submit a portfolio. This portfolio is judged by a panel of CMRW peers. The panel is made up from Toast of the Resume Industry (TORI) Award Winners and worldwide leaders of the industry.
The portfolio submitted must stand out for its innovation, superior command of the language, advanced formatting, branding elements, strategy, contextual narrative and equal strengths in multiple disciplines.
Once approved, a new portfolio is submitted every 3-years for re-certification. This is to ensure skills are up to date in response to the constantly changing needs of recruiters and hiring decision makers and to meet the impact of the Internet and new technology.
I've held the Master's Certification for many years (the pinnacle level of competency in the industry). In December 2020, the CDI Certification Committee unanimously passed my recent portfolio, noting the exceptional quality of the portfolio submitted.
I take my qualifications seriously, so I can help my clients communicate their value, and what differentiates them from their competition.
I'd love to help position you for your next opportunity. Touch base via my contact page and let's talk about transforming your resume!