A Certified Master Resume Writer is the oldest master-level resume credential worldwide and the only one endorsed by an active professional association, Career Directors International (CDI).
Currently there are only 42 credentialed Master Resume Writers worldwide. I'm one of them.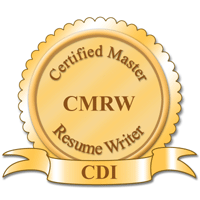 Certified Master Resume Writers are considered by many to be the 'best of the best' in the resume-writing industry. To be part of a select group of elite resume writers, not only do you need a pre-existing resume certification, (such as CARW), but you need to submit a portfolio. This portfolio is judged by a panel of CMRW peers. The panel is made up from Toast of the Resume Industry (TORI) Award Winners and worldwide leaders of the industry.
[Read more…]